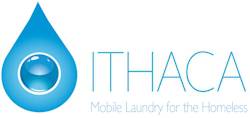 Updated at: 2023/01/31
Provision of laundry service
How it works?
Our mobile unit consists of two washing machines and two tumble dryers, while water and electricity are provided free of charge by partner organizations. Each wash lasts about 40′ and drying the clothes another 45′. Beneficiaries deliver their clothes at the start of the shift, where they receive a priority number by which they pick up their clothes at the end of the process. Our employees in the field and volunteers are responsible for the reception and proper service of the beneficiaries as well as for the smooth functioning of the overall operation.
Additional Information
Every Wednesday 10:00-14:00 at Club for UNESCO of Piraeus & Islands (Kotioron 35, Nikaia).
Anyone can use this laundry service if they do not have access to other cleaning services.
You do not need to have an appointment.
Come to the location at the time shown on Ithaca Laundry's weekly schedule: http://ithacalaundry.gr/#action 
Bring your clothes during the first hour of the shift.
Please keep in mind that due to new regulations we accept 10-15 beneficiaries per shift.
Accessibility & Additional Information
This service is closed on public holidays: YES
Appointment required: NO
Communication in sign language: NO
The entrance to this location has a ramp: NO
This location has female staff: YES
All Services Listed Are Free of Charge: YES
Address
Kotioron 35
Nikaia, Piraeus
Opening Hours
Wednesday open from 10:00 to 14:00
Contact Information
email: info@ithacalaundry.gr
facebook_messenger: https://www.facebook.com/ithacalaundry/
phone: +302114116300 (ext.114)
website: http://ithacalaundry.gr/en/home
Address
Megalou Alexandrou 122, Athens
37.9781235
23.6648198
Address in local language
Κοτυώρων 35, Νίκαια
Click here to see the address in GoogleMaps.