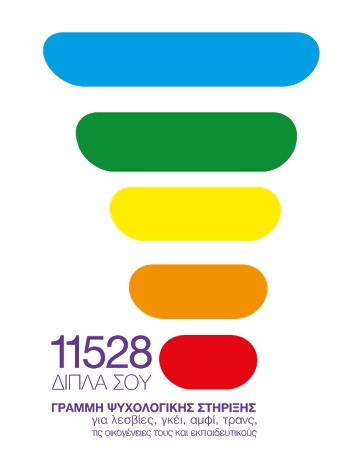 Updated at: 2022/12/21
The Greek Psychological Support Line "11528- ΔΙΠΛΑ ΣΟΥ (BY YOUR SIDE)" is for LGBTQI people, their families and educators and every questioning individual on sexual orientation or/and gender identity.
If you identify yourself as lesbian, gay, bisexual, transgender, intersex or know someone (LGBTQI+) and need support you can contact Psychological Support Line 11528- ΔΙΠΛΑ ΣΟΥ.
At 11528 - Dipla Sou you can speak openly!
Monday to Friday 12:00 - 18:00 except public holidays.
The possibility of communication via the internet is also provided. Skype account: 11528 – Dipla Sou with the well-known logo, you can search for us by the name diplasou.11528 or by email diplasou@11528.gr. All sessions are confidential and anonymous.
We welcome LGBTQI immigrants and refugees. Our psychologists speak English, French, Spanish and Greek. We are open to collaborating and discussing the possibility of interpretation in any other language, when it's necessary. 
Opening Hours
Monday open from 12:00 PM to 06:00 PM
Tuesday open from 12:00 AM to 06:00 PM
Wednesday open from 12:00 AM to 06:00 PM
Thursday open from 12:00 AM to 06:00 PM
Friday open from 12:00 AM to 06:00 PM
Contact Information
email: diplasou@11528.gr
facebook_messenger: https://www.facebook.com/diplasou11528/
phone: 11528
website: https://11528.gr/
Address
Greece
39.074208
21.824312
Click here to see the address in GoogleMaps.