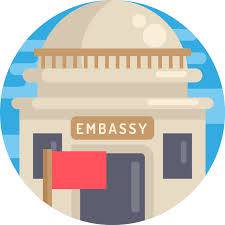 Updated at: 2023/06/02
From September 21, the Embassy of Ukraine to the Hellenic Republic is open ONLY by appointment. 
Pre-registration for a consular reception is carried out through the online registration form at the link: 
Find instructions for pre-registration here. 
? Citizens of Ukraine who have been forced to leave the territory of Ukraine due to the war and require urgent filing of documents, in particular:
receiving certificates 
obtaining a foreign passport 
submission of data about children to a foreign passport 
consular registration 
issuance of an identity card for returning to Ukraine 
You do not need an appointment to deliver abroad a passport that has been issued in Ukraine. Find instructions here.
If you need further information, you can contact at: 
Phone number: 210 68 56 172 (from 09:00 to 13:00); 210 68 00 230 
Hotline phone (Only in case of a life-threating situation or death of Ukrainian citizens): 6932 765606
E-mail: consult_gr@mfa.government  
Address
2, Stephanou Delta Str.
152 37 Filothei
Contact Information
email: consul_gr@mfa.gov.ua
phone: 302106856172
website: https://greece.mfa.gov.ua/en
Address
Stefanou Delta 2, Filothei, Greece
38.015712
23.7842468
Address in local language
ΣΤΕΦΑΝΟΥ ΔΕΛΤΑ 2
Click here to see the address in GoogleMaps.